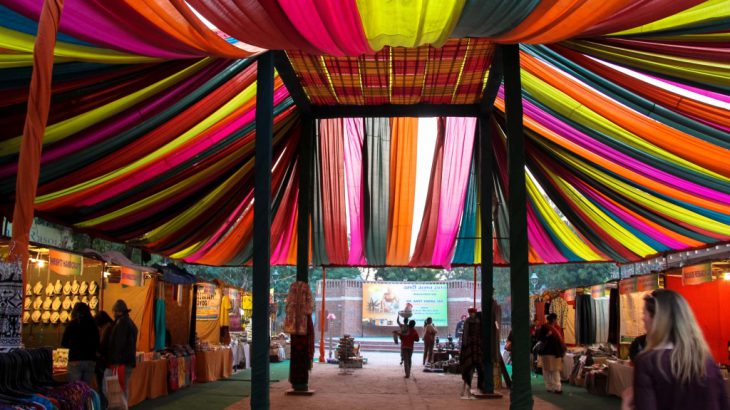 Being free over the weekend and not wanting to go to the usual places like malls or movies, we refer you to go and try the Pritampura Dilli Haat. Dilli Haat is a paid-entrance open-air food plaza and craft bazaar located in Delhi as one of the Top 10 places to visit near Pitampura, run by Delhi Tourism and Transportation Development Corporation. Unlike the traditional weekly market, the village Haat, Dilli Haat is permanent
History
Delhi's second Dilli Haat, the Dilli Haat, Pitampura was developed by Delhi Tourism (DTDC), Government of Delhi and NDMC, D.C. (Handicrafts) & D.C. (Handlooms), Ministry of Textiles & Ministry of Tourism, Govt. of India in Pitampura, close to Pitampura TV Tower and spread over 7.2 hectares, was opened in April 2008.The acres of land on which this complex is situated was salvaged as part of a reclamation project and transformed into a plaza. Extensive foundation work, small thatched roof cottages and kiosks give the plaza a village atmosphere. Some shops are permanent but other sellers are rotated, usually for fifteen days.
Speciality
Products offered may include rosewood and sandalwood carvings embellished camel hide footwear, sophisticated fabric and drapery, gems, beads, brassware, metal crafts, and silk & wool fabrics. A number of shows promoting handicrafts and handlooms are held at the exhibition hall in the complex.
Best Time To Visit
Timings : 11.00 a.m. to 10.00 p.m
Entry Ticket : Rs.20/- (Adult)
How To Reach
The location of this public hub is just at a 10 minutes walking distance from the Netaji Subhash Palace metro station.
Also can be easily reached by the Rohini metro.station. The place is just outside the metro station.
You can take metro from Kashmiri gate to rithala via red line and board at Pitampura metro station from there you can easily foray through taxi or auto.